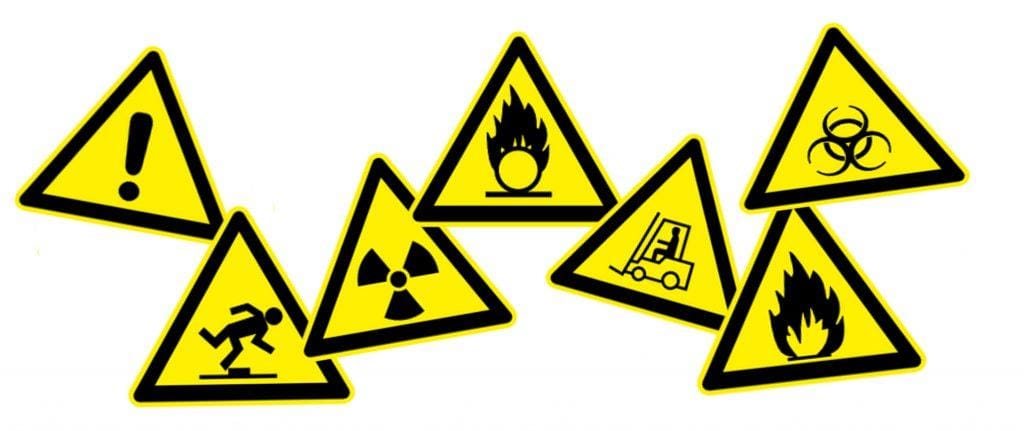 We are surrounded by things that have the potential to cause us harm. These hazards can take many forms from lifting a box of printer paper to using a chemical.
Employers must provide suitable and adequate training for any tasks that may put their employees in harms way. Below you will find details of the courses we offer which address the most common areas and fulfill an employers obligation under Law. Please note, however, that whilst these courses address safe working practices and legal requirements, some roles may require employers to carry out additional on-the-job training before an employee is deemed competent eg. familiarisation with  mechanical lifting aids or tuition in grinding using an abrasive wheel.
Providence Training's Safety Awareness courses are scheduled regularly at our Centre at Neyland, Pembrokeshire.  All are also available to be booked as a company or organisation specific course which could be held at our Centre, at your premises or site or any suitable third party venue.
| | |
| --- | --- |
| Who For: | People who work in roles that could put them in contact with Asbestos. These include those who work in the Construction Sector, who undertake building maintenance or work on mechanical sites plus many others. This award does not authorise you to remove or handle Asbestos. We also offer a Non-Licenced Removal course (sometimes referred to as CAT B) Information on this course can be found here. |
| Awarding Body: | Qualpass |
| Level | N/A |
| Duration: | 0.5 Days, approximately 9am to 12.30pm |
| Theory Assessment: | Yes, one multi-choice assessment. |
| Practical Assessment: | No |
| Scheduled: | Monthly at our Centre in Neyland or on demand |
| What you will need: | National Insurance Number |
| Additional Info: | This Qualpass award is widely accepted except when an employer or client is stipulating a specific accreditation such as UKATA. It is worth checking this before you book with us. Your Qualpass card will be posted to your home address within a few weeks of passing the course unless your employer has paid for it, in which case, it will be posted to them. |
| Info Sheet | Asbestos Awareness |
Abrasive Wheels Awareness
| | |
| --- | --- |
| Who For: | For those who use wheel based cutting or grinding equipment as part of their job. |
| Awarding Body: | Qualpass |
| Level | N/A |
| Duration: | 0.5 Days, approximately 9am to 12.30pm |
| Theory Assessment: | Yes, one multi-choice assessment. |
| Practical Assessment: | Delegates will be observed selecting and mounting an abrasive wheel whilst following safe working practices. |
| Scheduled: | Monthly at our Centre in Neyland or on demand |
| What you will need: | National Insurance Number |
| Additional Info: | This Qualpass award does not provide competence in the use of the equipment but does deliver the information required in order to operate it safely. Competence and training in the actual use of the equipment is the responsibility of employer to provide via on-the-job training. Your Qualpass card will be posted to your home address within a few weeks of passing the course unless your employer has paid for it, in which case, it will be posted to them. |
| Info Sheet | Abrasive Wheels Selection & Mounting |
| | |
| --- | --- |
| Who For: | Applicable to all employees of an organisation. |
| Awarding Body: | Qualpass |
| Level | N/A |
| Duration: | 0.5 Days, approximately 9am to 12.30pm |
| Theory Assessment: | Yes, one multi-choice assessment. |
| Practical Assessment: | Not normally, however, if required and you provide the extinguishers and a suitable area we can give delegates the experience of operating a fire extinguisher in the correct manner. |
| Scheduled: | Monthly at our Centre in Neyland or on demand |
| What you will need: | National Insurance Number |
| Additional Info: | Fire is an ever present danger in any work environment and this course will provide your employees with information on how it starts, what can be done to reduce the risks and what to do in the event of a fire. If provided, we can incorporate your own Fire Procedure. Your Qualpass card will be posted to your home address within a few weeks of passing the course unless your employer has paid for it, in which case, it will be posted to them. |
| Info Sheet | Fire Safety Awareness |
Manual Handling Awareness
| | |
| --- | --- |
| Who For: | Applicable to all employees of an organisation. |
| Awarding Body: | Qualpass |
| Level | N/A |
| Duration: | 0.5 Days, approximately 9am to 12.30pm |
| Theory Assessment: | Yes, one multi-choice assessment. |
| Practical Assessment: | Not normally, however, if required we can work with you to put in place some relevant practical team exercises. |
| Scheduled: | Monthly at our Centre in Neyland or on demand |
| What you will need: | National Insurance Number |
| Additional Info: | Working Days Lost due to Manual Handling injuries account for a very high percentage of the UK total. This course will teach participants how to avoid such injuries. Please note that this course is for moving objects and not people so it is not suitable for those working in the Care sector. Your Qualpass card will be posted to your home address within a few weeks of passing the course unless your employer has paid for it, in which case, it will be posted to them. |
| Info Sheet | Manual Handling |
Working at Heights Awareness
| | |
| --- | --- |
| Who For: | Applicable to those who are required to work off the ground as part of their job. |
| Awarding Body: | Qualpass |
| Level | N/A |
| Duration: | 0.5 Days, approximately 9am to 12.30pm |
| Theory Assessment: | Yes, one multi-choice assessment. |
| Practical Assessment: | No |
| Scheduled: | Monthly at our Centre in Neyland or on demand |
| What you will need: | National Insurance Number |
| Additional Info: | Working at height comes with obvious risks. This course teaches delegates about the equipment and working practices that are required in order to reduce those risks. In most cases this course should be supplemented with Harness Awareness. We usually run both of these courses on the same day. Your Qualpass card will be posted to your home address within a few weeks of passing the course unless your employer has paid for it, in which case, it will be posted to them. |
| Info Sheet | Working Safely at Height |
| | |
| --- | --- |
| Who For: | Those who are required to wear a safety harness as part of their job. |
| Awarding Body: | Qualpass |
| Level | N/A |
| Duration: | 0.5 Days, approximately 1pm to 3 pm |
| Theory Assessment: | Yes, one multi-choice assessment. |
| Practical Assessment: | Delegates will be required to run through pre-use checks and then fit their harness. |
| Scheduled: | Monthly at our Centre in Neyland or on demand |
| What you will need: | National Insurance Number and your Safety Harness |
| Additional Info: | Whilst Safety Harnesses are used to protect their wearer from serious injury, incorrect use can carry its own inherent risks. This course will make users aware of those risks and how to wear and use their harnesses safely. In most cases this course should be supplemented with Working at Heights Awareness. We usually run both of these courses on the same day. Our Boom Elevated Work Platform (MEWP) training will have Harness Safety Awareness included as standard (from June 2021). Your Qualpass card will be posted to your home address within a few weeks of passing the course unless your employer has paid for it, in which case, it will be posted to them. |
| Info Sheet | Harness Awareness |
Gas Safety Awareness (Cutting & Burning)
| | |
| --- | --- |
| Who For: | Those who are required to undertake cutting and burning using Oxy-Acetylene / Oxy-Propane burning and cutting equipment as part of their job. |
| Awarding Body: | Qualpass |
| Level | N/A |
| Duration: | 0.7 Days, approximately 9am to 2pm |
| Theory Assessment: | Yes, one multi-choice assessment. |
| Practical Assessment: | Delegates will be observed changing a gas cylinder and operating cutting equipment |
| Scheduled: | On demand at our Centre in Neyland or at your site |
| What you will need: | National Insurance Number and PPE |
| Additional Info: | Your Qualpass card will be posted to your home address within a few weeks of passing the course unless your employer has paid for it, in which case, it will be posted to them. |
| Info Sheet | Gas Safety |
Propane Gas Safety Awareness
| | |
| --- | --- |
| Who For: | Outside caterers and others that use Propane Gas as part of their job. |
| Awarding Body: | Qualpass |
| Level | N/A |
| Duration: | 0.5 Days, approximately 9am to 12pm |
| Theory Assessment: | Yes, one multi-choice assessment. |
| Practical Assessment: | Delegates will be observed changing a gas cylinder. |
| Scheduled: | On demand at our Centre in Neyland or at your site |
| What you will need: | National Insurance Number |
| Additional Info: | Your Qualpass card will be posted to your home address within a few weeks of passing the course unless your employer has paid for it, in which case, it will be posted to them. |
| Info Sheet | N/A |
COSHH (Control of Substances Hazardous to Health) Awareness
| | |
| --- | --- |
| Who For: | Those who come into contact with hazardous substances as part of their job eg. Cleaners and cleaning products |
| Awarding Body: | Qualpass |
| Level | N/A |
| Duration: | 0.5 Days, approximately 9am to 12pm |
| Theory Assessment: | Yes, one multi-choice assessment. |
| Practical Assessment: | N/A |
| Scheduled: | On demand at our Centre in Neyland or at your site |
| What you will need: | National Insurance Number |
| Additional Info: | This course covers the regulations and safe working practices surrounding the risks, storage and handling of hazardous substances. Your Qualpass card will be posted to your home address within a few weeks of passing the course unless your employer has paid for it, in which case, it will be posted to them. |
| Info Sheet | N/A |