Safety Passports, the Key to Site Access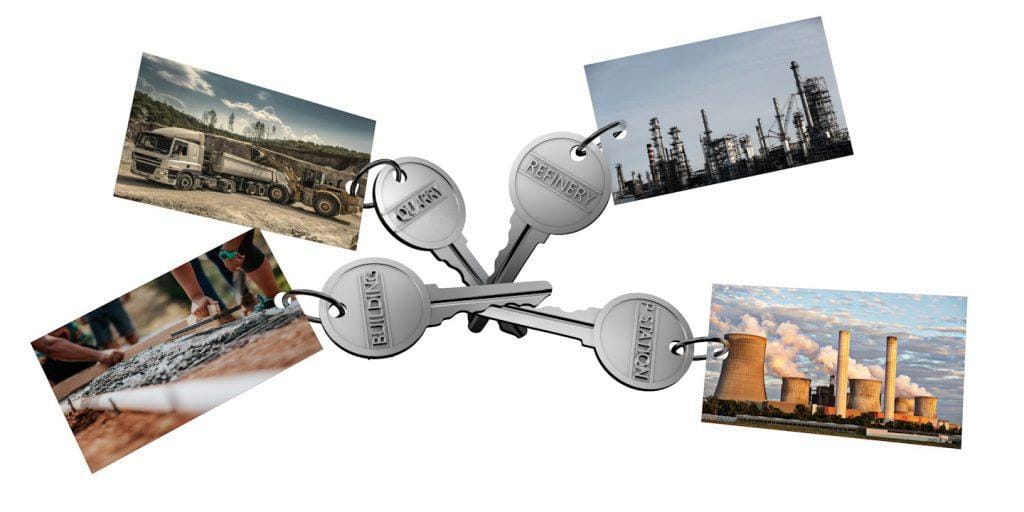 Many employers/clients will insist that anyone working on their sites has a basic understanding of Health & Safety, specific knowledge of the particular risks associated with their sector and the ability to work safely. In order to achieve this they make it mandatory, for anyone entering their site, to have a current Safety Passport .
Each  passport schemes is specific to a certain sector and, in the vast majority of cases, one sector will not recognise the safety passport of another. This means that workers who move between different sectors often have to carry multiple passports. As an example, a worker who switches between work on oil refineries and construction sites will have to have both a CCNSG Site Safety Passport and a CSCS Card. Please see our FAQ section for more information.
Providence Training's Passport courses are scheduled regularly at our Centre at Neyland, Pembrokeshire with the exception of our MPQC/SPA Mineral Sector Passport which is held monthly at Pontypridd.  All are also available to be booked as a company or organisation specific course which could be held at our Centre, at your premises or site or any suitable third party venue.
CCNSG Site Safety Passport
| | |
| --- | --- |
| Who For: | Those wishing to work on High Risk Mechanical sites e.g. refineries. |
| Awarding Body: | ECITB |
| Level | N/A |
| Duration: | 2 Days, approximately 9am to 4pm |
| Theory Assessment: | Yes, four multi-choice tests. Two per day. |
| Practical Assessment: | No |
| Scheduled: | Weekly at our Centre in Neyland or on demand |
| What you will need: | Identification and National Insurance Number |
| Additional Info: | On successful completion you will be issued with a temporary 6 week card. A permanent card will be posted to your home address sometime within this 6 week period. |
| Info Sheet | CCNSG |
CCNSG Site Safety Passport Renewal
| | |
| --- | --- |
| Who For: | Those wishing to work on High Risk Mechanical sites e.g. refineries. |
| Awarding Body: | ECITB |
| Level | N/A |
| Duration: | 1 Day, approximately 9am to 4pm |
| Theory Assessment: | Yes, two multi-choice tests. |
| Practical Assessment: | No |
| Scheduled: | Weekly at our Centre in Neyland or on demand |
| What you will need: | Your old CCNSG card, identification and National Insurance Number |
| Additional Info: | You must hold a current CCNSG card. On successful completion you will be issued with a temporary 6 week card. A permanent card will be posted to your home address sometime within this 6 week period. |
| Info Sheet | CCNSG Renewal |
CCNSG Leading a Team Safely
| | |
| --- | --- |
| Who For: | Supervisors wishing to work on High Risk Mechanical sites e.g. refineries. |
| Awarding Body: | ECITB |
| Level | N/A |
| Duration: | 1 Day, approximately 9am to 4pm |
| Theory Assessment: | Yes, one multi-choice tests. |
| Practical Assessment: | No |
| Scheduled: | On demand |
| What you will need: | Identification and National Insurance Number |
| Additional Info: | Delegates must hold a current CCNSG card. On successful completion you will be issued with a temporary 6 week card. A permanent card will be posted to your home address sometime within this 6 week period. |
| Info Sheet | Leading a Team Safely |
MPQC SPA Mineral Sector Passport
| | |
| --- | --- |
| Who For: | Contractors and sometimes employees who wish to work on mineral extraction sites eg quarries |
| Awarding Body: | MPQC & SPA |
| Level | N/A |
| Duration: | 2 Days, approximately 9am to 4pm |
| Theory Assessment: | Yes, two multi-choice tests. |
| Practical Assessment: | No |
| Scheduled: | Monthly at Treforest or on demand |
| What you will need: | Identification and National Insurance Number |
| Additional Info: | On successful completion your card will be posted to your home address (or to your employer if they have paid for you) sometime within a 6 week period. |
| Info Sheet | Mineral Products _ Safety Pass Alliance |
MPQC SPA Mineral Sector Passport Renewal
| | |
| --- | --- |
| Who For: | Contractors and sometimes employees who wish to work on mineral extraction sites eg quarries |
| Awarding Body: | MPQC & SPA |
| Level | N/A |
| Duration: | 1 Days, approximately 9am to 4pm |
| Theory Assessment: | Yes, two multi-choice tests. |
| Practical Assessment: | No |
| Scheduled: | Monthly at Treforest or on demand |
| What you will need: | Identification and National Insurance Number |
| Additional Info: | You must have a current Mineral Sector Passport. On successful completion your card will be posted to your home address (or to your employer if they have paid for you) sometime within a 6 week period. |
| Info Sheet | Mineral Products _ Safety Pass Alliance |
| | |
| --- | --- |
| Who For: | Those who wish to work on Construction or Civil sites and who do not have CITB recognised qualifications. |
| Awarding Body: | Card awarded by the CITB and our Health, Safety & Environment for Construction Workers course is awarded by IOSH |
| Level | IOSH course is Level 1 |
| Duration: | The IOSH Course is 1 Day, approximately 9am to 5pm, the Operatives CITB Health, Safety and Environment test is 40 minutes |
| Theory Assessment: | Yes, the course has one multi-choice assessment. The CITB test is computer based and also multi-choice |
| Practical Assessment: | No |
| Scheduled: | The course is Monthly at our Centre in Neyland or on demand. Appointments for the test are dependent on test centre availability |
| What you will need: | Identification and National Insurance Number |
| Additional Info: | You must have valid ID for the CITB Test. This is held at your local Pearson Professional Test Centre. Please see our FAQ section for more information. |
| Info Sheet | N/A |